| | |
| --- | --- |
| communication interface | USB-HID,USB-CDC,UART,RS232,RS485 |
| Serial port baud rate | 1200-115200bit/s(default 57600) |
| Power supply | DC4.5V-5.5V |
| Consumption current | less than 80mA |
| ambient temperature | -40~+80℃ |
| Ambient humidity | Less than 90% relative humidity |
| Technical support | Provide SDK, card writing software, demo demo program, etc |
operation instructions / interface instructions
For example, what are the necessary conditions for writing with LS series card reader?
(1) the LS series card reader can write the cards which conform to the protocols of iso14443a, ISO14443B, iso15693, iso18000-2 and iso18000-6c, and the high frequency (13.56 MHz) and ultra-high frequency (915 MHz) cards.
(2) LS series low frequency (125kHz) card reader and LS series USB HID interface card reader can not write card.
(3) Lianxing microelectronics provides LS series card reader instruction set, calls these instructions, and realizes card reading and writing. At the same time, the instruction set application demo is also provided to help users quickly get familiar with LS instruction application of satellite microelectronics.
(4) users who have written requirements first need to know the storage structure of the card sector and so on (the card supplier provides the relevant data manual), and then call the binary microelectronics LS series card reader module instruction to read and write operations.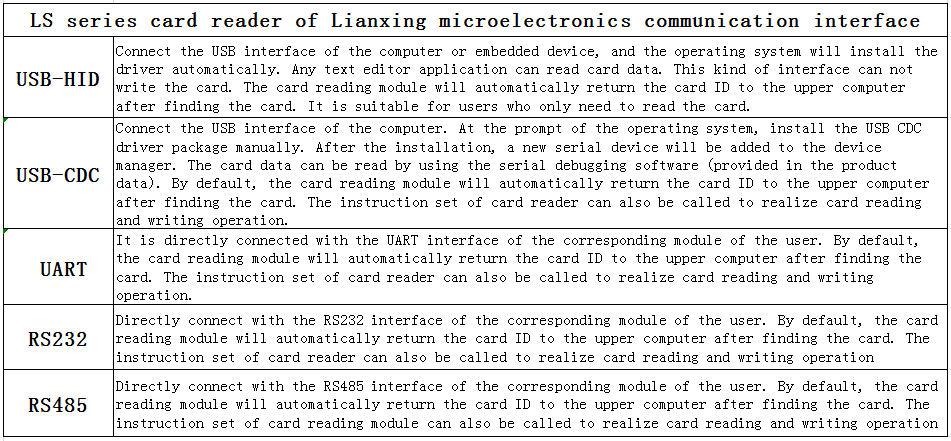 Note: the card reader connection of RS232 / RS485 interface needs to cut off the a-head of USB cable, and there are four wires exposed. They are red, white, green and black respectively, corresponding to 5V, TXD, RXD and GND.